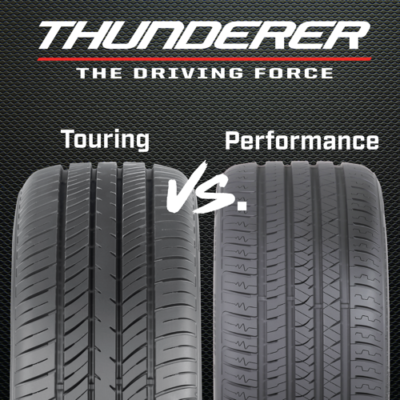 With so many options in the tire market it can be confusing to choose the right type of tire for your vehicle. Certain tires will perform better than others under different driving conditions, road surfaces and driving habits. Having the right tire on your vehicle can make all the difference staying safe on the road. Let's talk about the difference between touring tires and performance tires and how to know what is right for you.
Touring Tires
Touring tires are the most common type of tire found on passenger vehicles on the road. They offer the most reliable option for high mileage – whether it is your daily commute to work, errands or road trips with family. Touring tires have a tread compound that allows for higher mileage expectancy while providing a quiet, comfortable ride.
The Thunderer Mach I is a premium touring tire designed for confident handling, a quiet ride and high- mileage. Available in 33 sizes, ranging from 13"-17", it is engineered for small to mid-size vehicles. The Mach I carries a 60,000-mile limited treadwear protection and is backed by our 25/365 No Questions Asked Free Replacement Limited Protection Policy.
Touring tires are ideal for sedans, SUVs & crossovers and those who want maximize savings at the gas pump.
Performance Tires
Performance tires are designed to optimize handling, traction, and reduced stopping distances. They usually feature unique tread patterns, enhanced rubber compounds and construction to upgrade the driving experience. Typically, these tires are low or ultra-low profile and provide a stiffer sidewall for better cornering at higher speeds. Drivers of sports cars and other high-performance vehicles demand the best handling and responsiveness out of their tires and performance tires typically perform better during aggressive driving.
Drivers do not have to sacrifice style for price with the Thunderer Mach Series. The line-up includes ultra-high-performance tires: Mach V and Mach IV and high-performance tires – Mach III and Mach II. With aggressive tread patterns, exceptional handling in all weather conditions, and engineered to provide superior performance, the Mach Series delivers the quality and value you expect from Thunderer.
Whether you are a road trip warrior or an adrenaline junkie, Thunderer has your next set of tires ready when you are. All Thunderer tires are backed by our 25/365 No Questions Asked Free Replacement Limited Protection Policy.
Talk to your local tire retailer to help determine the perfect set of Thunderer tires today!