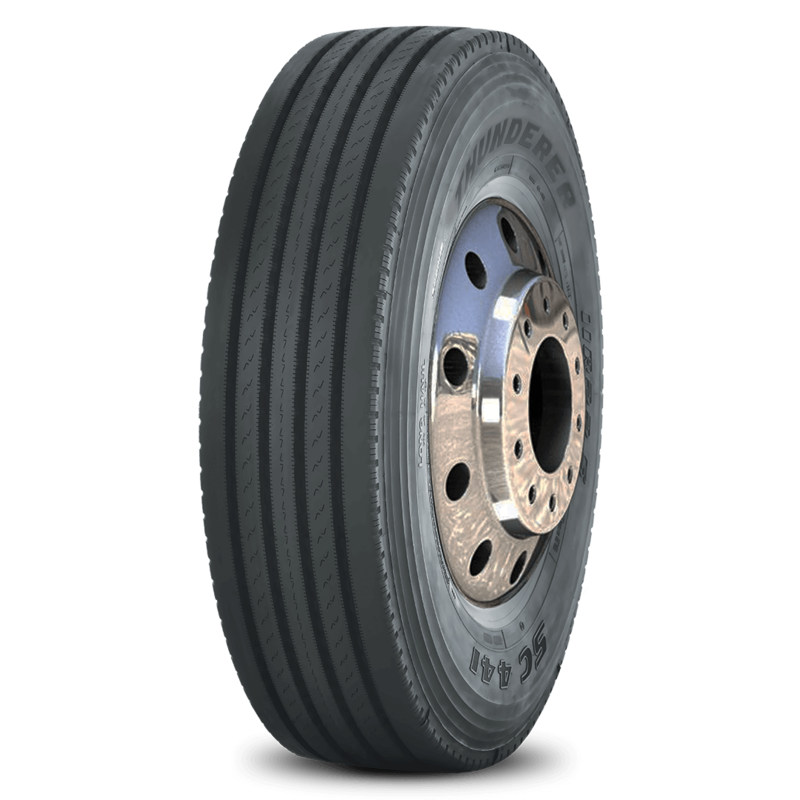 Thunderer LA441 is a premium, over-the-road design optimized for the Steer Axle.
Full, 18/32" tread depth promotes long mileage.
Wide footprint maximizes weight dispersion for even, uniform wear.
Advanced tread compound offers low rolling resistance for improved fuel economy (Smartway Certification pending).

Wide primary grooves provide excellent water dispersion which improves handling in the harshest of conditions.

Strategically placed siping minimizes free-rolling irregular wear.
| Size | LI/SR | PR | TT/TL | TD | OD | SW | Max Load @PSI |
| --- | --- | --- | --- | --- | --- | --- | --- |
| 11R22.5 | 144/142L | 14 | TL | 18 | 41.5 | 11.0 | 6175/5840@105 |
| 11R22.5 | 146/143L | 16 | TL | 18 | 41.5 | 10.8 | 6610/6005@120 |
| 295/75R22.5 | 144/141L | 14 | TL | 18 | 39.9 | 11.1 | 6175/5675@110 |
| 11R24.5 | 146/143L | 14 | TL | 18 | 43.5 | 11.0 | 6610/6005@105 |
| 11R24.5 | 149/146L | 16 | TL | 18 | 43.5 | 11.0 | 7160/6610@120 |
| 285/75R24.5 | 144/141L | 14 | TL | 18 | 41.3 | 11.1 | 6175/5675@110 |
| 235/85R16ST | 129/125L | 14 | TL | 12 | 31.7 | 9.4 | 4079/3638@109 |