RA401
PREMIUM ALL-POSITION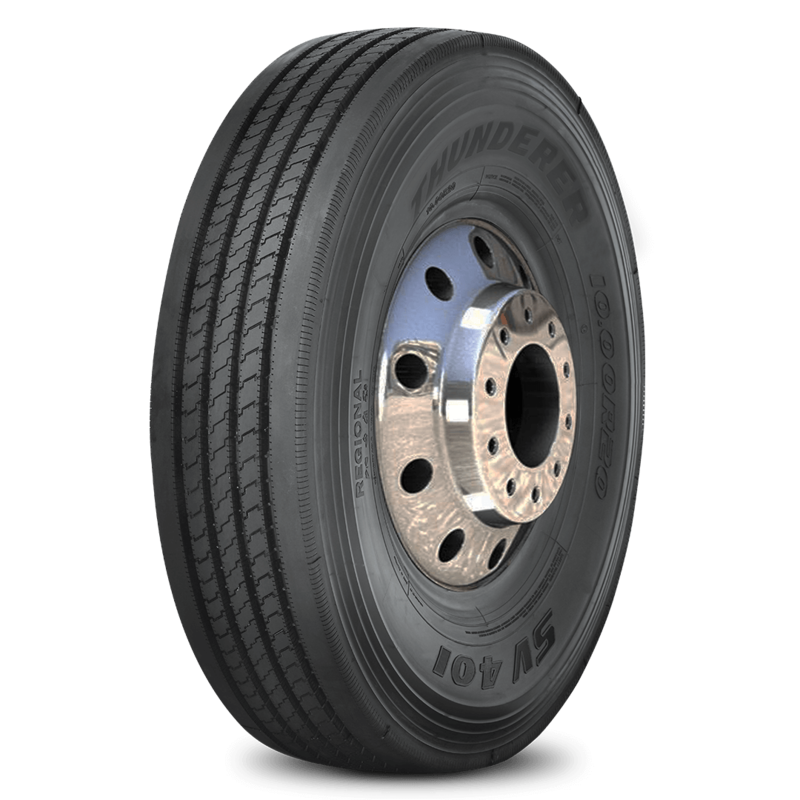 The RA401 is a premium all-position design that covers a broad class of applications and road conditions.
Up to 22/32" tread depth for long mileage and trouble-free service.
Fitments raning from 17.5" to 22.5" wheel diameters.
Advanced tread compound offers low rolling resistance for improved fuel economy (Smartway Certification pending).
Wide footprint maximizes weight dispersion for even, uniform wear.
Generous siping to combat irregular wear and enhance overall mileage.
| Size | LI/SR | PR | TT/TL | TD | OD | SW | Rim Width | Max Load @PSI |
| --- | --- | --- | --- | --- | --- | --- | --- | --- |
| 8R19.5 | 124/122L | 12 | TL | 19 | 33.8 | 8.0 | 6 | 3525/3305@110 |
| 10R22.5 | 141/139L | 14 | TL | 19 | 40.1 | 10.0 | 7.5 | 5675/5355@115 |
| 11R22.5 | 146/143M | 16 | TL | 20 | 41.4 | 10.8 | 8.25 | 6610/6005@120 |
| 315/80R22.5 | 154/151J | 18 | TL | 22 | 42.4 | 12.3 | 9.0 | 8270/7610@120 |
| 215/75R17.5 | 126/124L | 14 | TL | 16 | 30.5 | 8.9 | 6.0 | 3748/3527@105 |
| 215/75R17.5 | 128/126J | 16 | TL | 16 | 30.5 | 8.9 | 6.0 | 3968/3748@110 |
| 235/75R17.5 | 132/130J | 16 | TL | 18 | 31.4 | 9.2 | 6.75 | 4410/4189@115 |
| 225/70R19.5 | 128/126M | 14 | TL | 16 | 31.9 | 8.9 | 6.75 | 3970/3750@110 |
| 245/70R19.5 | 135/133L | 16 | TL | 18 | 33.0 | 9.8 | 7.5 | 4805/4540@120 |
| 265/70R19.5 | 140/138L | 16 | TL | 18 | 34.4 | 10.3 | 7.5 | 5510/5205@120 |